How to Insure Your Cryptocurrency at Altercap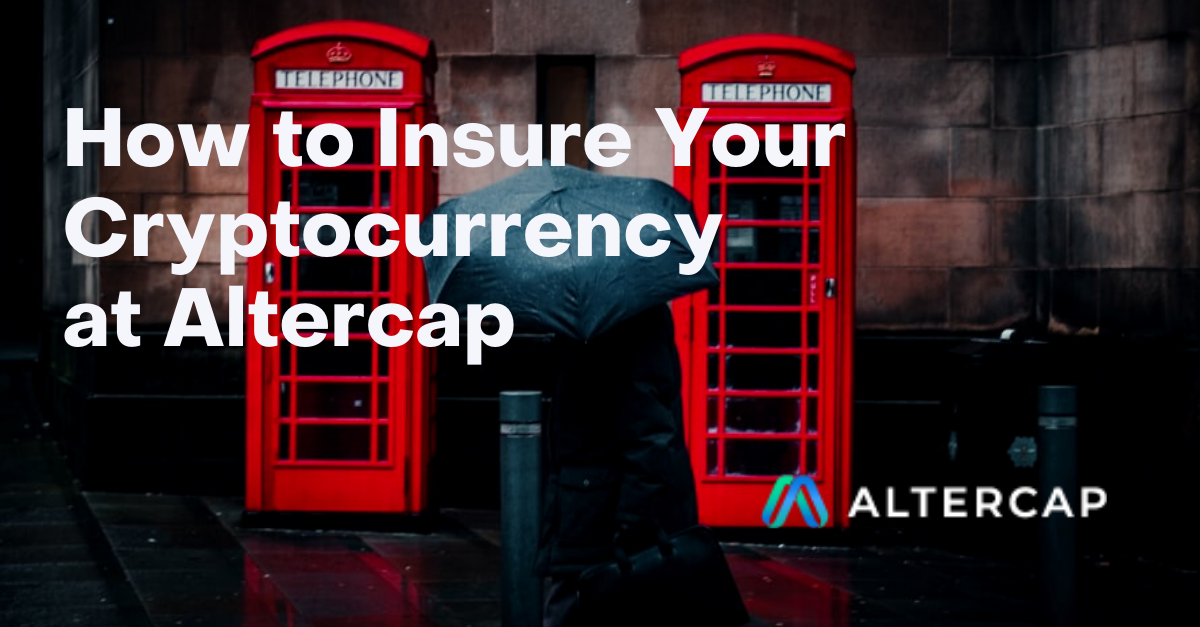 At Altercap, we always put the security of our clients and their assets first. To this end, we have made sure that all Altercap users have access to a full range of enhanced security features, backed by zero-trust architecture, smart user interfaces, and multiple redundancies.
In order to provide our clients with additional peace of mind, we have also developed an industry-leading insurance product that provides coverage for digital assets against most forms of theft and cybercrime.
Altercap users can already apply for enhanced coverage by following this link.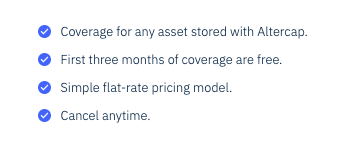 For a limited time only, the first three months of cryptocurrency insurance for new clients will be provided free of charge.
What is covered?
Altercap insurance policies protect cryptocurrency stored using Altercap wallets against various forms of cybercrime, including hacks, device theft, and phishing.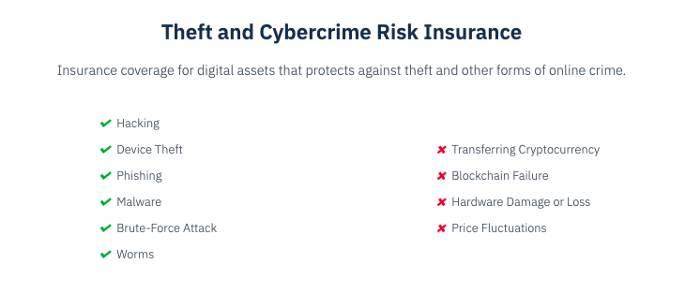 What is the application process?
It only takes a few minutes to apply for Altercap's insurance product. Together with our insurance partner, Coincover, we have made sure that the application is quick and painless. No paperwork is required and acceptance is instantaneous.
1. Click "Apply Now" on this link..
2. Confirm your personal information.
3. Choose your plan.
4. Receive your Certificate of Protection.
How much does cryptocurrency insurance cost?
The cost of your insurance depends on your level of coverage. This ensures you pay only for the insurance you actually need.

What assets are covered?
Any asset held in an Altercap wallet will automatically be covered, following the issuance of a Certificate of Protection.
Who underwrites the insurance?
We have developed our insurance product in partnership with Coincover, the industry leader in providing security solutions for digital assets. All Coincover policies are underwritten by Lloyd's of London.

Can I withdraw coins and tokens that are held in an insured account?
Purchase of insurance does not affect your ability to sell or withdraw assets from your Altercap wallet. All assets that remain in your Altercap wallet will stay insured for the full term of your policy.
How do I submit a claim?
In the event of a security breach or loss of funds, you should get in touch with our dedicated support team immediately. We will manage the claims process and help to provide all the necessary information to Coincover that ensures you receive compensation.
If you have any additional questions about this process — or about any other platform feature — do not hesitate to get in touch.